All on 4 Dental Implants in Mexico
The All-on-Four treatment concept provides patients with an immediately loaded fixed acrylic prosthesis supported by 4 implants

The principle involves the use of 4 implants restored with straight and angled multiunit abutments, which support a provisional, fixed, and immediately loaded, full-arch prosthesis.

The All-on-Four treatment has been developed to maximize the use of available bone and allow immediate function.
The definitive acrylic prosthesis is delivered within 4-6 months after implant insertion.
The greatest benefit of this procedure is how quickly permanent dental implants are placed so patients can leave with fixed, non-removable replacement teeth.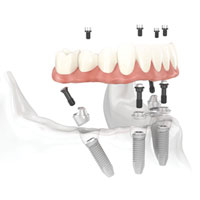 All on 6 dental implants in Mexico
The All-on-6 procedure is very similar to All-on-4; a series of high-tech dental implants are used to support denture appliances or porcelain fused to metal crowns.

The All-on-6 method consists of six dental implants that are precisely positioned within the jawbone, which is used as a natural anchor.
Each dental implant is designed to organically integrate with the mouth, much like a natural tooth root.

This way, the bite remains just as strong as it would have been with a brand new set of teeth. Like the above procedure.
With the help of all on 6 dental implants in Mexico on the top or bottom arches, we can build a full bridge that looks and functions like your real teeth.

These procedures are recommended to people who have lost many teeth and can no longer chew or smile.
The price for full mouth restoration in the U.S. can often exceed significant amounts of money.
The all on 4 dental implants in Mexico and all on 6 dental implants in Mexico, patients can receive high-quality full-mouth restoration solutions at a fraction of that price.
Plates
Plates are removable appliances that can replace missing teeth and help restore your smile.

Immediate dentures are ready to wear three days after your tooth extractions and can have the form of a partial or a complete denture.

If your natural roots are in good condition, they can be used to anchor a permanent denture.
Porcelain crowns over your own teeth are strongly suggested, if necessary the treatment can be complemented with implants and a fixed denture.

Even if there are no teeth, with the help of six dental implants on top or bottom you may have a full bridge to recover your permanent teeth.
Sometimes some of your teeth can be saved to preserve your jawbone and provide stability and support for the denture.
An overdenture fits over a small number of remaining natural teeth after they have been prepared by your dentist. Implants can serve the same function
Implants supported dentures
An implant-supported denture is used when a person doesn't have any teeth but has enough bone in the jaw to support implants with its special attachments that snap onto attachments on the implants

Usually, a regular denture made to fit an upper jaw is stable on its own and doesn't need the extra support offered by implants.
However, you can receive an implant-supported denture in either the upper or lower jaw.

The implants are usually placed in the jawbone at the front of the mouth because there tends to be more bone in the front of the jaw than in the back.
Some people prefer to have a fixed crown and bridgework in their mouths that offer a more permanent solution.
TCS or Partial flexible
TCS referred to thermoplastic removable flexible partial dentures.
Each appliance is indicated for use as a removable full or partial denture in place of traditional acrylic or saddles on cast-metal partials.

The TCS is a flexible partial that allows restorations to adjust with the contours of the mouth.

Partial Dentures have proved to be stain-resistant, durable, and comfortable in the mouth.
Also, the natural hue of the appliance allows us to blend with surrounding gums and dentition to ensure our patients' comfort and safety.
For more information about treatments, please visit Post Treatment Care
Are You Interested in This Treatment?
Check our price list to find out how much you can save